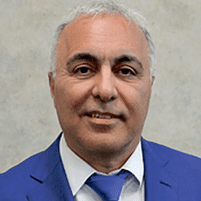 Shahriar Sedghi MD, AGAF, is a board-certified gastroenterologist and researcher at Gastroenterology Associates of Central Georgia in Macon, Georgia. He has over two decades of clinical experience treating patients of all ages who are suffering from gastrointestinal issues. Dr. Sedghi specializes in treating patients with inflammatory bowel disease (IBD), which includes conditions like Crohn's disease and ulcerative colitis.
After graduating from King's College and Westminster Medical School at the University of London, Dr. Sedghi completed eight years of post-graduate training, including a residency in internal medicine at Mercer University in Macon and a gastroenterology fellowship at Loyola School of Medicine in Maywood, Illinois. During his training, he was awarded the ACG/Schering Clinical Achievement Award.
Dr. Sedghi's medical training in England and the United States helped him learn different perspectives on best practices. He minimizes unnecessary testing and admissions for patients by utilizing mid-level providers in a team approach, allowing patients to avoid emergency room visits whenever possible. Dr. Sedghi also places great emphasis on diet and holistic options when treating gastrointestinal disorders.
He formed the largest independent physician-operated Accountable Care Organization (ACO) in Georgia, called Georgia Partners for Accountable Care (GPAC). It's an organization that provides quality care at lower costs to increase patient satisfaction.
Dr. Sedghi is board-certified in gastroenterology and is a Fellow of the American Gastroenterology Association. He's actively involved with the Crohn's and Colitis Foundation of America. He also serves as an Associate Professor of Surgery at Mercer University School of Medicine in Macon, where he teaches medical students and residents.
His involvement in research and clinical trials allows Dr. Sedghi to offer patients the most advanced, state-of-the-art treatments available. He is the Director of the Gastrointestinal Research and Clinical Trial Center of Georgia, has published numerous research papers in scholarly journals, and presents at national gastroenterology meetings.
In his free time, Dr. Sedghi enjoys spending time with friends and family, including his wife and three beautiful children. He is currently accepting new patients and welcomes them to Gastroenterology Associates of Central Georgia.